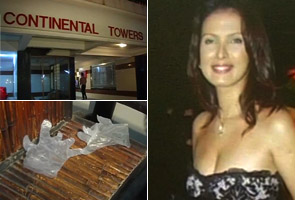 Mumbai: Viveka Babajee, once among India's top models and the face of the Kamasutra campaign, died a tragic and lonely death.

The 37-year-old hung herself from the ceiling fan in her flat in the posh suburb of Bandra on Friday. The police suspect she was depressed after a recent break-up with her boyfriend.

The police have recovered her diary; its last entry reads "I Kill". The diary is now being treated as a suicide note.The police say she had a fight with her boyfriend on 24th of this month, just two days earlierHer last two calls were to a woman friend and to her family in Mauritius. She had told her family that she was going far, far away.Police have also recovered her laptop and a polythene bag containing sleeping pills.The police are examining Babajee's diary which they say could reveal whether she committed suicide of her own accord or was pushed to the edge, though police sources say she had tried to commit suicide at least once before.The family and friends say they are shocked. The case is a throwback to the suicide of another to model Nafisa Joseph in 2004, also the result of love gone awry. These are the cases which underline the dark side of the glamour world where people and relationships may be much more fragile than they seem.