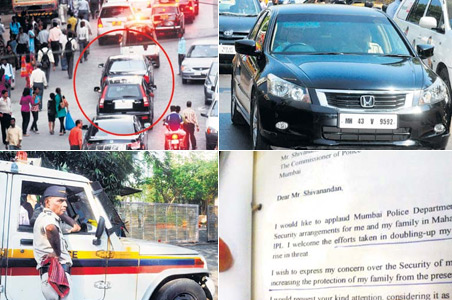 A day after Lalit Modi was shown the door by the BCCI, he is all set to lose his
security
cover too. If reports are to be believed, Modi's security cavalcade will be a thing of the past.
Mumbai
police
officials are considering withdrawing his police protection, which incidentally he had been getting for free for the past year.
A senior police officer confirmed the move, saying, "We are awaiting the reports from the local police station, Crime Branch and Special Branch on threat perception to Modi and his family. If the report is negative, we will immediately pull out the policemen provided for his security."

Free of cost
Modi had been given police protection free of cost, thanks to a powerful neta, who apparently made a phone call to a senior cop, asking that Modi and his family be provided security. Five cops were immediately sent to give day-night protection to Modi and his family. For the past two months, this number has increased to 10.
The estimated cost of this protection works out to almost Rs 15 lakh (at the rate of Rs 600 per constable per day, for a year).
MiD DAY had reported about police security for Modi on April 2, 2009 'Lalit Modi and family live under threat'.
Police officials attached to the protection branch admitted to receiving verbal instructions initially on Modi's security cover and subsequently provided him with two armed constables (one on each shift). His wife and children were entitled to one constable each for 12 hours.
Cop cover
The number of policemen was gradually increased after Modi wrote a letter to Mumbai Police Commissioner D Shiva-Nandan on March 2, 2010 (a copy of which is with MiD DAY), in which he thanks the police department for doubling his security and also asks for more protection for his family. Accordingly, a few days later the protection department doubled the manpower for Modi and his family. Modi was provided 2+2 (two constables in day and two at night) armed with carbines and his family was provided with one constable each (12-hr shift) for 24 hours.
"Even if Modi stayed out of Mumbai or India during the above period, he was still under the police cover and officials from protection branch were in constant touch with his personal security guards, knowing his movements and details," said a police officer.
Advocate M P Vashi, who had earlier filed a PIL in the Bombay High Court on unwanted police protection given to political leaders, said, "The police should not have wasted 10 of their men for Modi and his family. They do not deserve such treatment. They enjoy such luxury for free only due to their nexus with certain political leaders."