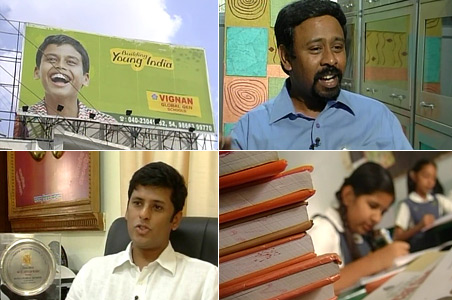 If it was the "International" tag that made you pick your children's school in Andhra Pradesh, please begin looking for more reasons to keep them there.

For the Andhra Pradesh government wants schools to have simple names and drop misleading tags like "International", "World", "Global" or even "Techno," which hold out the promise of global standards in school education, but may not provide it.

Armed with the Right to Education Act, that frowns upon such names, the state government now wants names of schools to only indicate the level at which the school offers an education. The government's argument is that such names are only a ploy to charge higher fees.

The Andhra School Education Minister, M.Varaprasad, says, "They have to follow many norms but we find even ordinary schools calling themselves international schools.''

Parents flock to these schools looking for that international edge, but as educationist Isidore Philips points out, "A fancy title would mean your marketability increases, but has it translated into the school becoming really world class? These terms of world class, global, international, techno, concept all need a definition and I think to that extent, the government saying please do not use that is a step in the right direction.''

Corporate schools do not agree. They say the government should not harass schools with genuine international affiliations.

According to B Gavish Reddy, Director, Niraj International School: "The schools which are genuine, which are affiliating with foreign bodies, foreign universities and education institutions definitely must be permitted to use the word International.''

Such corporate schools are likely to go to court if the government insists that they drop their fancy tags.